So, where were we? Ah, that's right. An all-conquering Liverpool were just about to wrap up the Premier League title, with every chance of exceeding 100 points and so setting a record.
The memories flood back. The commanding figure of Virgil van Dijk at the back. The focused energy in midfield. The full-backs tearing up the wings at every opportunity. That lightning fast and deadly front three, so artfully put together with the pace and threat coming from wide as Roberto Firmino drops off to create space. Remorseless winners who … lost four of their last six games (including three in cups) before the shutdown.
One of the odder aspects of the 100-day break was feeling context slipping away. All those shifts of momentum, the tiny details you sense when you are immersed in football and on which, for better or worse, we place great store, seem – even within the parameters of a game whose essential lack of importance has been emphatically underlined in the past three months – oddly trivial. Shutdown has acted as a great reset button. The vast majority of injuries have cleared up. Everybody is fresh, if not match-fit.
In a sense there are no excuses any more. There is a weird purity to the next month and a half of football, as though it's being played in lab conditions. This is football's Dogme 95 moment, a return amid the oddity to a focus on the game itself, stripped of external factors and distractions. Perhaps that will benefit what Jamie Carragher calls the Monday-to-Friday players, those whose brilliance is obvious in training but who struggle to perform to that level in front of a live audience.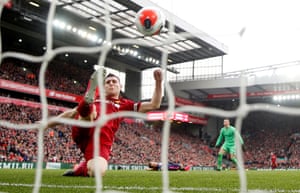 Yet there is an oddity here, a paradox similar to that exposed by the Danish film directors Lars von Trier's and Thomas Vinterberg's "Vows of Chastity". That, for all their concern about the excessive use of special effects and the way audiences were emotionally led by background music, their hyper-naturalism was itself jarring. So jarring, in fact, that Von Trier himself ended up using background music in his first Dogme film, Idioterne (The Idiots).
The oft-expressed idea that "football without fans is nothing" is a self-serving cliche; football predated fans and went on without fans on a regular basis in parks and schoolyards across the country. But football without fans is odd, and it can have taken only a few minutes of watching Borussia Dortmund against Schalke on that first afternoon of the Bundesliga's resumption to realise that, however intriguing the noise of ball on boot was, however pleasing the rattle of the net support was when a goal was scored, this was not a return to some prelapsarian idyll.
Fans can bring pressure, and they also bring support. What has become clear during Jürgen Klopp's four and…


Read More:Liverpool will deserve full measure of praise despite the empty stands |