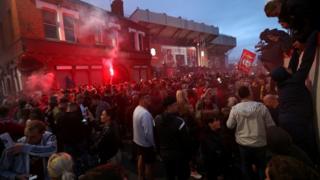 Police have issued a dispersal order to clear Liverpool fans from Anfield where the team has been presented with the Premier League trophy.
Thousands of supporters gathered in the streets, letting off flares and fireworks to celebrate the club's first top-flight title in 30 years.
Reds legend Sir Kenny Dalglish presented the trophy in an empty stadium after the team beat Chelsea.
Merseyside Police said the 48-hour order is to prevent potential disorder.
The dispersal zone has been set up to stop a possible repeat of widespread gatherings last month when Liverpool clinched the championship.
Merseyside Police tweeted the dispersal zone was put in place from 21:30 BST "following increased numbers of people gathering near the ground".
It gives police officers powers to direct people suspected of causing or likely to cause crime, nuisance or anti-social behaviour to leave an area for up to 48 hours.
The city council also tweeted a reminder to fans celebrating to "keep social distancing in mind and avoid crowds".
Supporters waved flags outside…