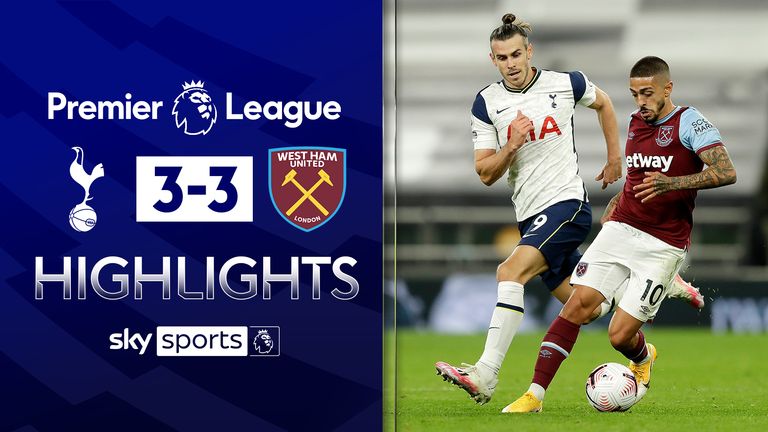 When Jose Mourinho was brought in to be Tottenham manager, it was to give the trophy-shy club the winning edge they needed to start filling their trophy cabinet. Eleven months on, their soft underbelly just will not go away.
For the second home game in a row, Spurs conceded a last-minute equaliser to a team they looked like steamrollering for large periods. Had they held on against Newcastle and now West Ham, they would be just behind Everton after five games.
Against Steve Bruce's side they could blame a ludicrous handball rule and the perils of VAR. But the only place to look after this latest capitulation was the mirror, having become the first team in Premier League history to blow a three-goal lead in the last 10 minutes of a game.
Spurs looked like the sort of side who could challenge a Virgil van Dijk-less Liverpool to the title this season before half-time, making it 14 goals in two-and-a-half games with their 15-minute salvo of strikes in a sensational display of attacking football from the off.
After the break, even when their pressing and intensity dropped, there was not even a hint at one of the worst Premier League capitulations in recent memory, and the collapse raises questions over just how ready Mourinho's side are – mentally, as much as technically – to take that next step.
"My players were not strong enough to cope with it psychologically," Mourinho said after full-time. He put on somewhat of a brave face, but behind the scenes he will be worried.
The Spurs documentary charting Mourinho's first season in north London was dominated by his determination to turn them into a team of cold-blooded winners. "Nice guys, they never win," was the line.
After the restart, with results picking up and an on-field scuffle between Heung-Min Son and Hugo Lloris the boss described as "beautiful", it looked like things might be moving in the right way.
But with four points already dropped at home – all in injury-time – to teams who finished in the bottom half of last season's league table, there is evidently still a long way to go for Mourinho to instil the ruthless mentality which has filled his own trophy cabinet so handsomely over the years.
Ron Walker
The West Ham of recent seasons have seen a lot of money thrown at their team in the hope of turning them into a force on the pitch – but results have spoken for themselves. What David Moyes appears to have cultivated at the London Stadium is something money cannot buy.
Yes, the Hammers have bought well this…


Read More:Premier League hits and misses: Same old for Spurs, Man United finally get