As the tributes flooded in for Jack Charlton after death earlier this year, his achievements as Republic of Ireland manager were rightly lauded. Before his appointment, the team had never qualified for a major tournament. That soon changed. In a decade in charge, Charlton took the country to Euro 88 and two World Cups, also narrowly missing out on qualification for two more European Championships. He squeezed in a lot during his tenure, while also creating memories for supporters, boosting the national economy and becoming a national hero.
All of this seemed a pipe dream when Charlton was unveiled as manager at a feisty press conference in February 1986. Johnny Giles and Liam Tuohy had been the favourites for the job, with Charlton a distant third when the FAI's 19-man executive committee met in Dublin to choose a new manager. But Charlton sneaked home, becoming the first Englishman to manage Ireland.
The media were not unanimously pleased about the FAI's choice and the press conference even "threatened to become physical" according to the Irish Times. "The circumstances of my selection are unimportant, they had nothing to do with me," said Charlton. "My pedigree shows that I know the business and I'll be perfectly happy to be judged on what I do in the job."
The task looked ahead tough for the 50-year-old. To qualify for Euro 88, Ireland would have to win a group that contained Belgium, Bulgaria and Scotland, three sides that had played in the 1986 World Cup.
Ireland started slowly in the group. After Liam Brady scored a last-minute penalty to secure a 2-2 draw in Belgium, Charlton's team were held to a goalless draw by Scotland in Dublin before securing their first win at Hampden Park. Another draw with Belgium and two wins over Luxembourg continued the improvement, but defeat in Bulgaria to another late penalty appeared to put a big dent in their hopes of reaching the finals.
As Ireland prepared for their last group match at home to Bulgaria in October 1987, qualification was still possible, but only if three things happened: Ireland needed to beat Bulgaria, Scotland had to take at least a point off Belgium on the same day, and then Scotland had to win in Bulgaria. Not much to ask for.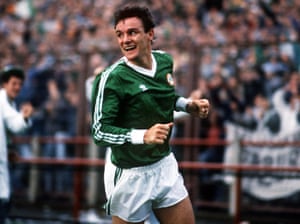 Ireland kept their part of the bargain by beating Bulgaria 2-0. When Scotland defeated Belgium by the same scoreline later that evening, their hopes grew. But there was one final hurdle in front of Charlton and the signs were not promising. Bulgaria had not lost a qualifier in Sofia since 1982; Scotland's away record was poor; and injuries were decimating Andy Roxburgh's plans. "At their best, the Scots are capable of beating anybody but Bulgaria are a strong, competitive team who don't normally lose at home," said Brady.
It hardly helped Ireland's cause when Rangers trio Richard Gough, Ian Durrant…


Read More:When Jack Charlton led Republic of Ireland to Euro 88 – thanks to Scotland