A lot of pre-match attention has focused on Ivan Toney, Newcastle flop turned wrecker of Football League defences. Since leaving the club after a grand total of four substitute appearances he has gone on to play magnificently for Peterborough and now also for Brentford, having handled the step up to the Championship with ease – though it certainly helps to be playing in a team that is as resolutely committed to attacking as Thomas Frank's Bees. Newcastle let Toney go for around £500,000 and a half-decent sell-on clause (Brentford paid £5m for him two years later) and I expect someone will have had a royal rollicking about that by now. "You have to say 'well done' to the kid. He's done very well. He will be a threat," says Steve Bruce. I'll say.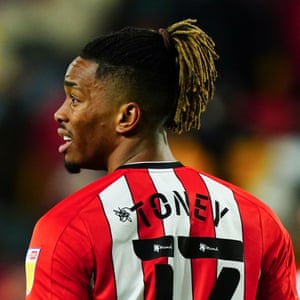 Brentford have not been beaten for 13 matches and two days short of two months, and Toney's goal return in his league appearances for the club so far is as follows: 0, 0, 1, 2, 2, 2, 0 (but an assist), 1, 1, 1, 0, 0, 1, 1, 1 (and an assist), 1, 0, 1, 1, 0 (and an assist). In 18 league games over the last three months he has scored 16 goals and created three. These are remarkable statistics, for a striker representing any team in any division, and the kind of goalsmithery that is likely to make his stay in the second flight brief, whatever happens to Brentford this season. But he has only ever scored one League Cup goal, and that was more than six years and eight appearances in the competition ago.
Anyway, let's hope he plays (he spent the fourth-round win over Fulham on the bench) otherwise a lot of pre-match words will have gone to waste, including all those above. Not that Newcastle will mind, standing as they are just one victory, and then also another victory, from reaching their first League Cup final in 45 years and only their second ever. Anyway, and most importantly, welcome!


Read More:Brentford v Newcastle: Carabao Cup quarter-final – live!