Jürgen Klopp defended his misfiring champions after Liverpool failed to knock Manchester United off their Premier League perch but admits his side now face a battle to stay in the top four.
The front three of Mohamed Salah, Roberto Firmino and Sadio Mané endured an off-day as Klopp's men could not break down United at Anfield. It was Liverpool's third successive league match without a goal.
Indeed, United could have snatched victory had it not been for two fine saves by Alisson who denied Bruno Fernandes and Paul Pogba in the second half. The stalemate left Liverpool with some work to do if they are to defend their title but Klopp is seemingly more concerned about remaining in the Champions League places.
He said: "I have to qualify for the Champions League and I know how difficult that is. This season will be a tough race for the top four that is for sure. Football fans are not the most patience species on this planet. They want to win each football game.
"I am not too different from that. But I am long enough in the business to know that there are more difficult periods. And this is not the most difficult period I have been through in my life, it's not even close. We have to be patient."
On the match, Klopp was satisfied with the performance, if not the finishing. He said: "I saw my team playing tonight a really good team with a clear idea with super passes and great counter-pressing and great desire to score and we didn't score.
"We will create chances and we will score. I think the performance was good enough to win it but to win a game you have to score goals and we didn't do that, so that's why we had that result. There is nothing fundamentally different, it is just the result is different."
Since the 7-0 demolition of Crystal Palace last month, Liverpool have dropped points against West Brom, Newcastle and Southampton. They now face a testing end to January with Burnley, Tottenham and West Ham next up in the league and a trip to Old Trafford in the fourth round of the FA Cup.
Klopp, though, remains unconcerned by Liverpool's apparent drop‑off. "There is no easy explanation [for their recent lack of goals]," the manager said. "You always miss chances. You have to keep going and try to ignore the talk around it. Everyone wants to see goals. You cannot force it.
"It's football. These moments happen. You have moments where you can't explain why you score from all angles. Against Crystal Palace everything ended up in the net. It's a bit annoying in between these moments.
"I like the game. I saw a lot of really good individual performances and the team performance was good. Not the result we wanted, but the result we got."
Despite coming into the match as the league leaders, United were happy to sit back for much of the contest and Ole Gunnar Solskjær left Anfield disappointed with his side's display.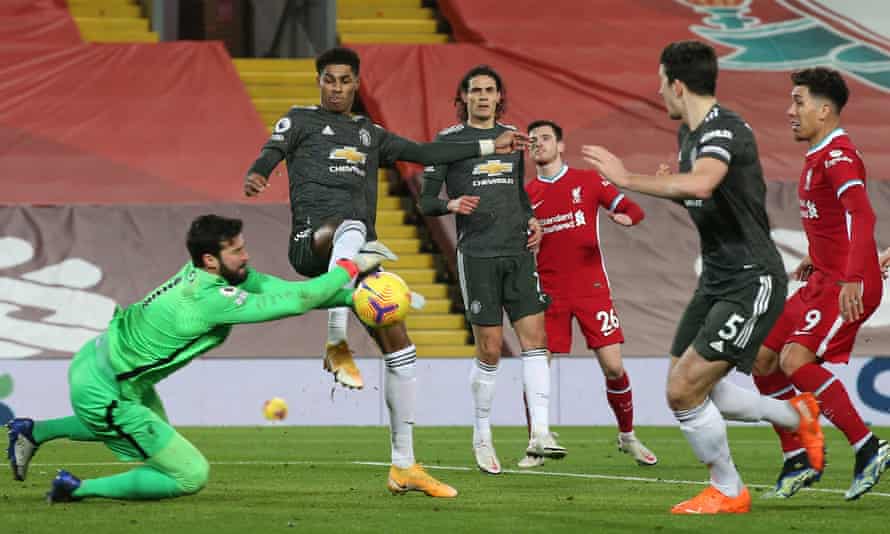 Read More:Klopp concedes Liverpool face top-four fight after Manchester United stalemate